.maple hill forest is a full service landscape contractor  ( since 1991  )  with over 30 years of experience. located in otsego minnesota   ( rogers area  ) .  Dry stack boulder walls are one of the oldest forms of erosion control .  retaining walls can add landscape beauty to your home or office complex.  boulder walls are built from natural rock found in your local area without the use of mortar , concrete.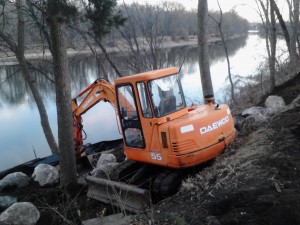 Today's walls are constructed using an excavator and thumb and place the rocks into a tight fitting, stacked wall. These modern day walls are environmentally friendly, corrosion resistant, everlasting and as durable as the rocks used to build them. Our boulder
walls can be constructed in a wide range of heights from 2 feet landscape walls to 20 feet engineered retaining walls.
Natural stone walls are beautiful as well as functional and may be used to increase the usable space and for water correction for drainage  which adds value to your property and are more cost effective than keystone block .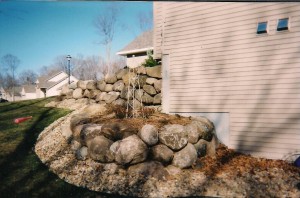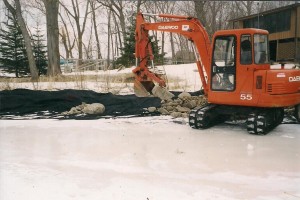 Whether you are a homeowner, contractor or a developer, maple hill forest can customize your project needs and with the skills and craftsmanship that our experience offers, we will provide you with a naturally beautiful boulder wall built with pride and efficiency.
Contact  us  today and please visit the galleries to see examples of our walls., and other work from  plantings,  paver patios,  cut stone stairs ,  to shoreline erosion control..
(763) 241-1112            kimthiebault@yahoo.com